Diglycolic Acid (2,2′- Oxydiacetic Acid)
Orion Chem is manufacturer of Diglycolic Acid (2,2′- Oxydiacetic Acid) in india, with state of art manufacturing facilites in MIDC Tarapur, Maharashtra, India , our utmost attention is given to generate quality products meeting stringent and demanding specifications of user industries.
Diglycolic Acid is known by its abbreviated form (DGA) & also known as 2,2′-Oxydiacetic acid.
Used for removal of limescale deposits in gas and oil bores, as well as in systems such as heat exchangers or steam boilers.
It is used in preparation of glycolides which in turn is used to manufacture sutures.
Diglycolic acid is a dibasic acid and has been utilized in the manufacture of adhesives, as cleaning compounds for automotive radiator cooling systems,
Used in the chemical industry as organic synthetizers, in buffers for pH control in chemical operations, as a sequestering agent for calcium and iron, and generally as a neutralizing agent.
It has been utilized in finishes for coatings for metal and wood.
It has been utilized in inks in the form of resins.
It is found in metal, petroleum, plastics, rubber, and textile industries for a variety of purposes.
It has also found use as a descaling agent for radiators and sterilizer equipment.
Products Details
| Product | Diglycolic Acid (2,2′- Oxydiacetic Acid) |
| --- | --- |
| CAS Number | 110-99-6 |
| Molecular Formula | C4H6O5 |
Diglycolic Acid (2,2′- Oxydiacetic Acid)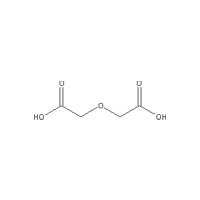 Diglycolic Acid (2,2′- Oxydiacetic Acid) Specification
| Test Parameters | Specifications |
| --- | --- |
| Formula Weight | 134.09 |
| Appearance | White crystalline solid free from visible impurities and foreign matter. |
| Melting Point in degree Centigrade | 141-142 0C |
| Min. Assay | 98% Min. |